Play Treasure Wild slot online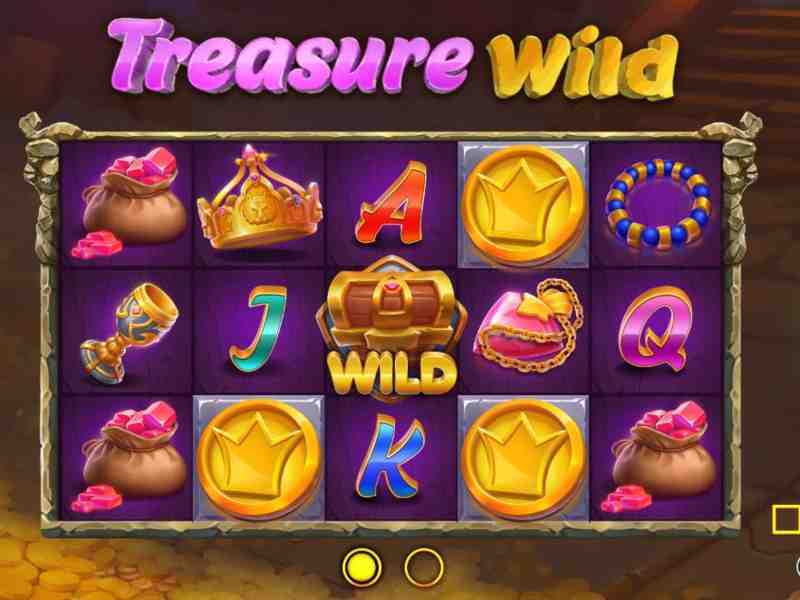 Play Treasure Wild at online casinos
Slot Treasure Wild, also known as Wild Wealth, is a famous slot machine from the provider Pragmatic Play. In the machine you have to collect jewels on 5 reels, the symbols on which appear in three rows. In Treasure Wild 20 paylines, the maximum possible prize multiplier will increase the winning bet of 4500. The slot belongs to the category of high-volatility, which means it promises a rare but big winnings.
Treasure Wild Slot Plot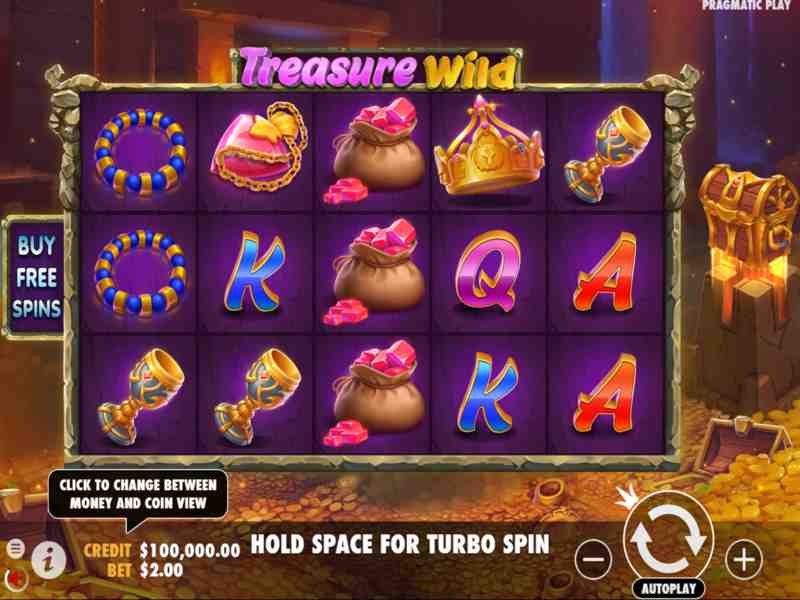 Slot from Pragmatic Play offers you to feel like a hunter for adventure and move to the ancient treasury, bursting with untold riches. Open the locked chest, they certainly is something fabulously valuable! You have to collect prize chains and hunt for free spins. Treasure Wild slot is sure you will not get bored!
Treasure Wild Slot Features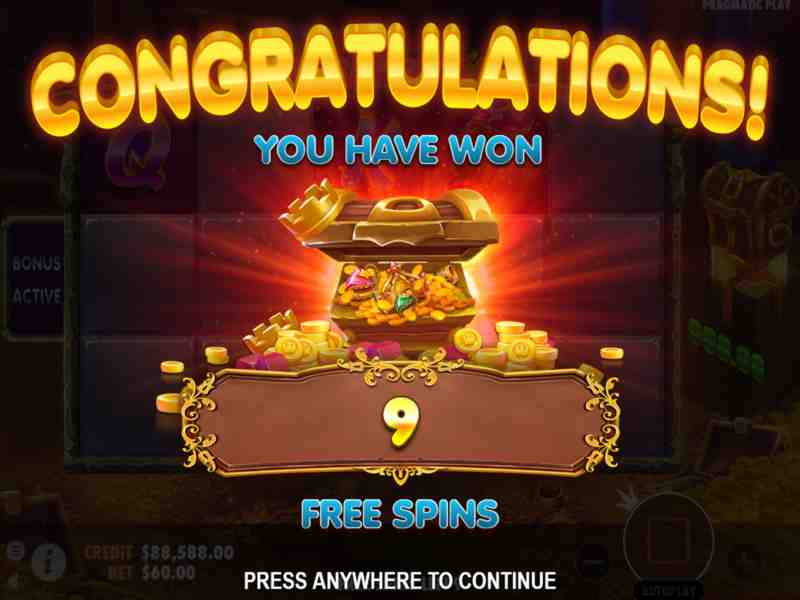 Despite the fact that the Treasure Wild slot does not shine with a huge variety of bonuses and features, it can still surprise and delight a sophisticated player. One of the most interesting mechanics is the ability to buy free spins in the in-game store. Place a bet and get a chance to win a generous prize! The cost of free spins is not fixed and depends on the size of your bet. Note that the cost of free spins varies significantly, while you will get 9 freespins regardless of the cost. What is the difference then? The fact is that the higher the value, the higher the likelihood of a big prize. Before the start of the free spins round gold coins with random amounts of money will appear on the reels. All of them will be collected in the treasure chest, located on the right side of the playing field. If during a round of freespins on the reels appear Wild symbols in the form of locked chests, they will open. Inside, the player will receive winnings, which are summed up with the amount already accumulated. At the end of the round the player will get the total winnings.
By the way, the free spins round can be activated for free, for this you need to collect at least five gold coins on the reels.
Finally, if both Coin and Chest land on the playing field at the same time, the latter will open and give the player its contents.
Play Treasure Wild for free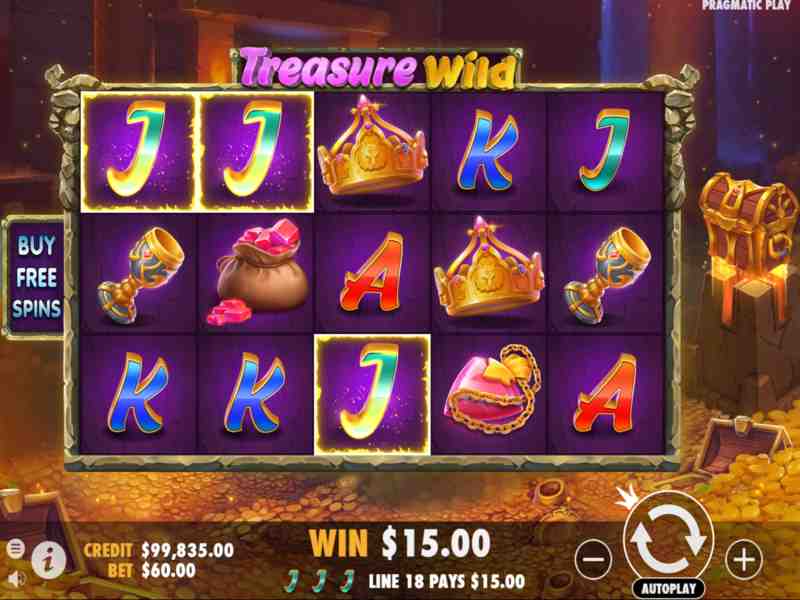 It is possible to play Treasure Wild slot in test mode for free. You do not even have to make a deposit - the game is available to every registered player at most online casinos. Demo mode duplicates all the functions of the machine except for one thing - without betting real money, you will not get a win. Nevertheless, the demo mode is great for getting acquainted with the features and functionality of the slot, as well as for testing strategies and hypotheses how to play and win.
Strategies and tactics for successful play in Treasure Wild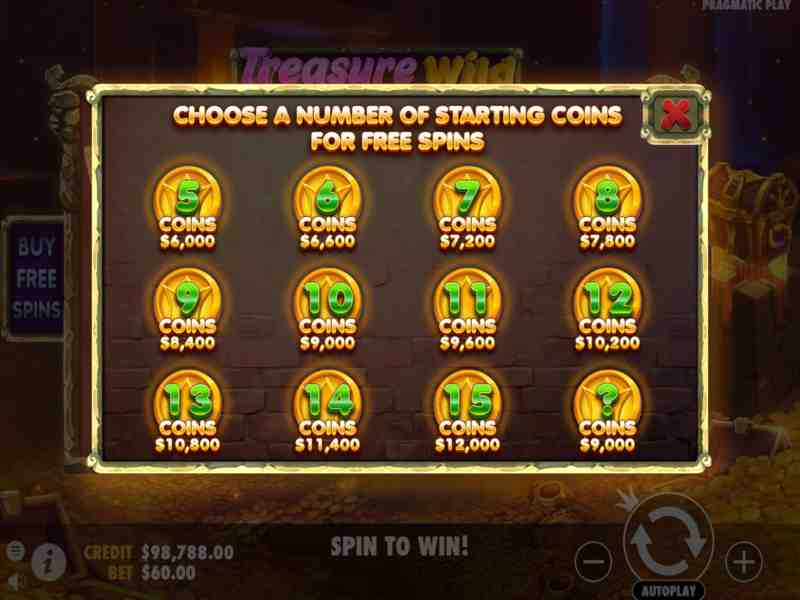 Users often wonder whether it is possible to win in slots, and whether there is any special strategy that can increase the chances of success and bring the cherished winning of a large sum of money closer. It would seem that in a game where the result of the round is determined by a random number generator, it is impossible, but experienced players are constantly analyzing new and new strategies. So, let's talk about the main strategies for playing Treasure Wild.
Noble Risk
In the lucky case that you are not strapped for financial resources and are not afraid to risk a few large bets, try your luck. What if today is your day? Don't be upset if you lose the first few times - perhaps the last bet will make up for all the losses. But be careful and do not try to win back in a long losing streak. It's better to try 3-4 times, and if you're not lucky, come back next time.
Buying freespins
One of the interesting tactics of playing Treasure Wild is the opportunity to buy freespins. The slot offers several options for purchase, but all of them will bring the player the same number of free spins - 9 pieces. Nevertheless, there is still a difference - more expensive positions can present the player with larger multipliers in case of success. The cost is not constant and depends on the size of the bet made. Based on this, you have 2 possible tactics - inexpensively buy the most expensive position with a minimum bet, or the cheapest one with a larger bet. The choice is up to you.
Micro Bid Tactics
If you are not a supporter of buying free spins, you can try to get them for free, namely by simply spinning the reels and looking for a combination of five gold coins on them. It is better to do it on the minimum bets, because with such an approach you will not only prolong the game and increase the chance of meeting with valuable combinations, but also just have a good time.
How to download Treasure Wild slot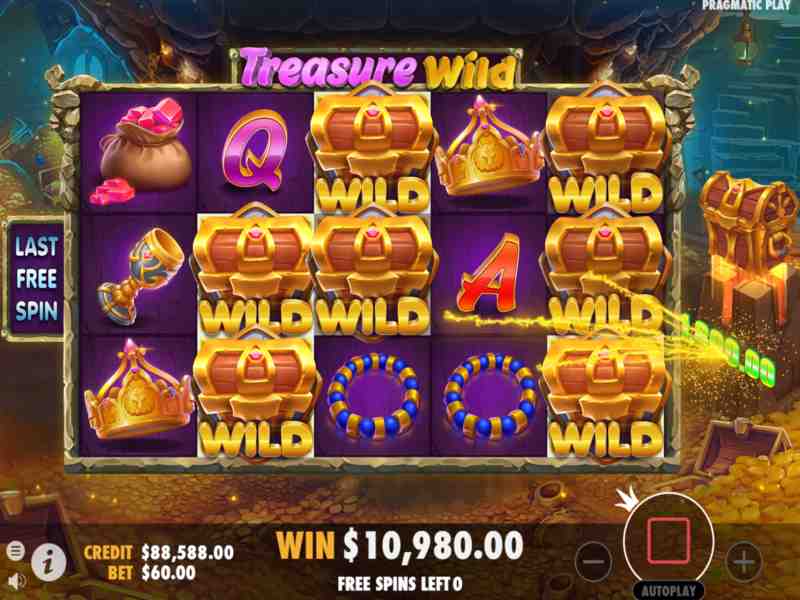 Treasure Wild, like dozens of other Pragmatic Play slots, can not be downloaded to your computer or phone, as the game is simply not presented for download in the public domain. Despite this fact, you can enjoy the game and the taste of victory from any device, be it a smartphone, tablet, laptop or PC. Gambling video slots in which you can try to win are placed exclusively on online casino platforms, where anyone over the age of 18 can find them. But then how to play on your phone, you ask. Let's get to the bottom of it.
How to download Treasure Wild on PC
You can not download the game to your computer. You can play Treasure Wild by going to the website of any virtual casino you like. To play in free mode without risk you can play immediately after registration, and to be able to win a cash prize, you have to make your first deposit.
How to download Treasure Wild to your iPhone
Don't look for the slot in Appstore, it's not there. To play from your phone, you don't even need to download anything and fill up the memory of your device. All you need is a stable internet connection and some money on your deposit account. Go to the casino website through Safari or any other browser. You will open a mobile version of the site. Log in to your account or register, make a deposit. Done, you can start your winning streak!
How to download Treasure Wild for Android
Action algorithm for the game in Treasure Wild on Android is not different from using a video slot on your phone - use your browser (Chrome and others), find your favorite casino, open the mobile version. Next, the procedure is no different from the standard game on your computer - enter your account password and make a deposit. You can start playing!
For those who like to install applications, there is an alternative - many casinos have developed and offer their own applications. Install such an application and play not only in Treasure Wild, but in other gambling slots! To play you will need registration and the amount in the account.
Where to play Treasure Wild slot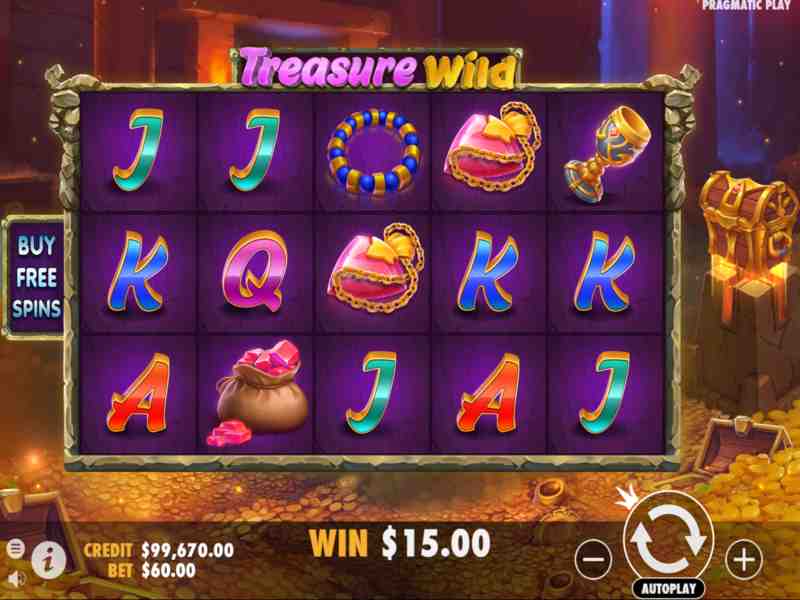 You can play Treasure Wild video slot on almost any device - the provider has taken care of optimizing the game for different devices. However, it cannot be downloaded. Where to play then?
Treasure Wild slot is placed in almost all popular online casinos, so if you want to spin the reels, you will first have to choose a suitable casino online.
Despite the similarity, casinos may offer different deposit conditions, registration, incentive policies for new and regular players as well as withdrawal rules for winnings. In order not to make a wrong choice, read player reviews of different virtual casinos.
Another great idea when choosing an honest casino is to get advice from people you know. Maybe your colleague is a connoisseur. Or your favorite streamer plays at a certain site and wins.
Pay attention to the welcome bonuses. They are given to every newcomer, but can only work for a limited time, such as an hour, a day or a month. Do not delay with making a deposit to play on favorable conditions. Attention! Bonus funds can not immediately withdraw - you must first wager them. Wagering conditions clarify in the specific casino.
Good luck!
Treasure Wild FAQ – questions about the game
What is the minimum bet in Treasure Wild?
The lowest possible bet in Treasure Wild slot is 20 US cents.
What is the highest bet in Treasure Wild?
The highest bet in Treasure Wild is 100 dollars.
What is the Maximum Prize Multiplier in Treasure Wild?
The maximum Treasure Wild slot prize multiplier is x4500 which means that if Treasure Wild is successful then your winnings bet will be increased by x4500.
Does Treasure Wild have free spins and how can I get them?
Yes, there are 9 free spins available in Treasure Wild slot. The player can get them in two ways: Collect 5 images of the Golden Coin on the reels; Buy inside the game store for money. If purchased, 9 freespins will also be provided.
How do I buy free spins in the Treasure Wild game?
To buy freespins in the Treasure Wild slot go to the inside game store. To do this, click on the Buy Free Spins button on the left side of the playing field. The store will open in front of you, where you can buy freespins.
How many freespins are available to buy in Treasure Wild slot?
Although there are several options available in the Treasure Wild store at different costs, they all give the player 9 free spins.
Why is the price to buy free spins different in Treasure Wild?
The price to buy free spins is not fixed and depends on the size of your bet. Also, the options to buy are just as different, although they offer 9 freespins each. This is due to the fact that different numbers of gold coins with multipliers appear on the reels before the start of the round, which at the end of the freespin round will determine your winnings. Consequently, more expensive freespins promise a more valuable reward.
Can I play Treasure Wild slot on my phone?
Yes, you can use your smartphone or tablet to play Treasure Wild. You will only need a stable internet connection to play comfortably.
Where can I download Treasure Wild?
Unfortunately, it is not possible to download Treasure Wild slot to your mobile device or PC. To play, use the casino app or mobile version of the site.
Is it possible to test Treasure Wild slot machine for free?
Yes, the Treasure Wild slot creators have made it possible to play for free in test mode. It repeats the functions of the regular game, but it can not win real money.
Reviews of real players about the slot Treasure Wild
Review: Not a bad slot Treasure Wild
Treasure Wild is pretty funny, as, however, most of the games from Pragmatics that I have played. They always please with quality animation, nice picture and some special gimmick in the gameplay. So here, too, with the purchase of the bet it can be nice luck for some sum moneysat.
Steve, 34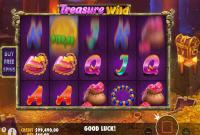 Review: Very average slot Treasure Wild
For me Treasure Wild is neither good nor bad. Maybe I do not grasp the theme, may be affected by the lack of variety, but this particular machine is not hooked. II will play for one evening, for longer - no, it's boring.
Sofia, 29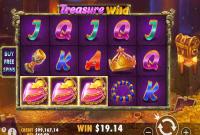 Review: It's a pleasure to play Treasure Wild
I have to say straight away that Treasure Wild is not my favorite slot. But I put it in the same line with a very, very worthy creations Pragmatic Play. There are both free spins and the ability to buy them. The only thing I do not advise is to buy them at high stakes, you can spend a lot more than you get.
Alan, 38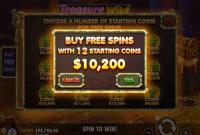 Review: Treasure Wild is not my thing
I like something more dynamic than Treasure Wild. This slot is as simple as one-two-three. There is nothing special to get into. Out of the bonuses there are only freespins, which is still a hell of a way to get, and buy it does not make sense.
Mark, 24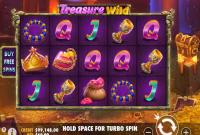 Review: Awesome slot Treasure Wild
Treasure Wild is one of the few slots in which I basically got lucky. Because of its high volatility is a rare situation, and here I not only won back what I lost, but also came out strongly in the plus. I definitely like it.
Aaron, 25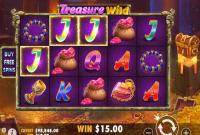 Review: Treasure Wild will do the trick with a beer
I think Treasure Wild is the average in my opinion. It is not too laggy and the game is pretty well designed. The rewards are good, but not as good as I'd like them to be. Do I get hooked? Not really. Play for half an hour after work - will do.
Boris, 21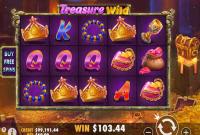 Review: Worth a go on Treasure Wild, but watch out!
I have only played the demo version of Treasure Wild so far and have had a taste of the slot. It seems to be a good strategy to play. I should try to play for dough, if it turns out to be a working version.
Nelson, 24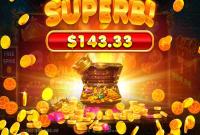 Review: Treasure Wild is addictive
Treasure Wild high-quality and good-looking slot, which quickly get used to. This is what makes this slot really hard to play. As a relaxation after a hard day - okay. But instead of half an hour you can fail for all two hours and may lose control. I play mostly on the minimum bet.
Bruce, 30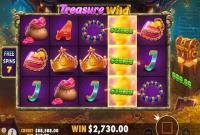 Review: Could be better with Treasure Wild
I have to be honest I was expecting more from Pragmatic Play. In fact, I had expected more from Treasure Wild and I don't know how to win. That is, the winnings then fall, especially when buying freespins, but often the prize is several times less than the money spent. I don't know, maybe it's just me who is so unlucky.
Andrew, 26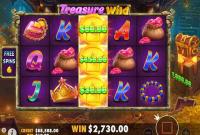 Review: Treasure Wild slot
I've been playing Treasure Wild in the evenings for a couple of weeks now. I've been playing it for a couple of weeks now. I instead like the simplicity and a certain monotony, it relaxes. Sometimes big winnings fall, so that mostly I stay in the plus or go to zero.
Maxim, 35